Our Mission
Respect is at the core of everything we do. Our mission is to create a culture of belonging by uniting people through the love of comfort food. We provide experiences that grow relationships and welcome people from all backgrounds. Achieving our mission starts with The "Way." It stands for the way we treat our guests, support our franchisees, source our products, and commit to doing the right thing.
Our Core Commitments
With respect at our core, we live these values.
All In

Create solutions that benefit guests, franchisees, and the brand.

Think Timeless

Make choices that never go out of style.

Stay True

Provide genuine experiences every day.

Take Action

Do better, and do it together.

Go Way Back

Nostalgia is at the heart of everything we do.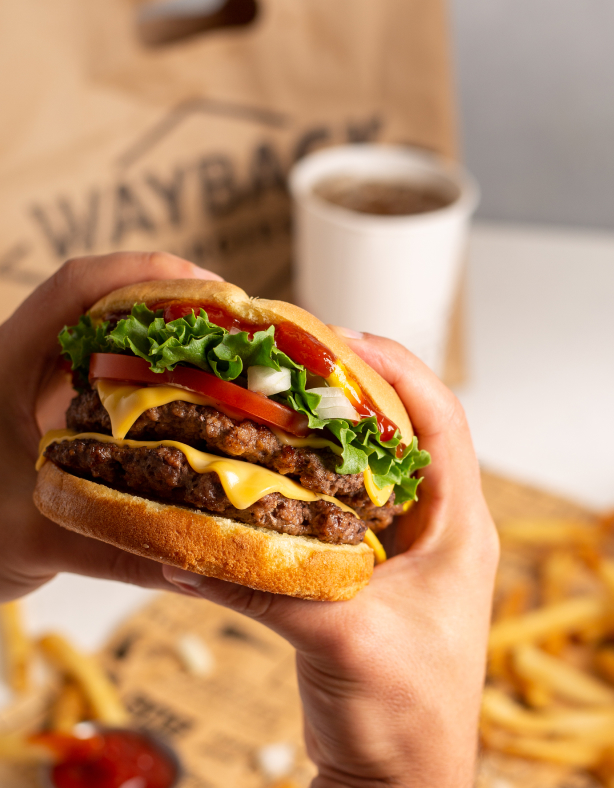 Our Story
Born in Newark, Delaware in 1991, Wayback symbolizes the inner "rebel," who might not eat their veggies, but holds the door for grandma EVERY TIME. Slightly irreverent towards those who don't understand, but always reminded. Wayback is honest and straightforward, reflecting our guests: hardworking people who want simple, uncomplicated things. Coming here is a treat. It's a place for everyone to feel comfortable, and no one is excluded. It feels revived – young and fresh with a nod to how things were "back in the day" but with a twist.
Today, headquartered in the Cheshire, CT, we strive to create a place where everyone—from our Franchisees and guests to our partners and community—can belong together.
The Wayback Community
Meet our community of friends and partners working together to support the causes we care about.
Wayback Burgers supports BGCA's overall mission with a specific focus in workforce readiness, preparing youth for success in their first jobs and beyond. Wayback Burgers has introduced several major initiatives and fundraisers to propel this work. As part of the company's partnership, a small percentage of every burger sold benefits BGCA. Also, two national fundraisers a year are hosted in our restaurants in which 10 percent of daily sales benefits BGCA.

Learn More

about Boys & Girls Clubs of America

Every Wayback Burgers franchisee specifically partners with local charities and organizations in its surrounding community to help raise money for a cause and/or organization. In addition to our efforts on a national level with The Boys & Girls Clubs, we are involved with fundraising with local chapters of the Boys & Girls Clubs as well as Toys for Tots, Salvation Army, Juvenile Diabetes Research Foundation and YMCA's.

Learn More

about Local Organizations